To the point and in line with my observations.
Brave New Climate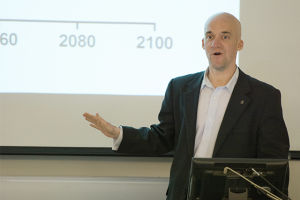 Advocating energy policy to ecologists…
It's been quite a while since my last BNC update! My excuse is a heavy travel schedule – first to Moscow to help decide the winner of this year's Global Energy Prize (see here) as part of the International Awards Committee, and then to Raleigh, North Carolina, to visit a long-standing colleague (Scott Mills and the 'hare lab') at NCSU and deliver a couple of talks (one on meta-modelling and another on energy policy – see here for a write-up of the latter talk). I also snuck in a visit to the spectacular Hanging Rock.
Anyway, to the main point of this post. The IPCC have released statements regarding their Working Group III report for AR5, on mitigation, with the full report to be released tomorrow (15 April). Summary for Policy Makers is here. See here for some responses from experts in…
View original post 391 more words